Jim and I have been am trying to get more people using the school. Here in Coutts, there is this wonderful old school that is no longer a public school but an Arts and Rec Centre. It houses my studio, the local library, a massage therapist, and a storage/ practice room for the local country/ rock band. There is some use of the facilities, but for the most part, it is underutilized. Monday was to be the start of the Senior's Walk. The school has a gym and weight room that are almost always empty. Since I am at the school  and in my studio weekdays, I opened the doors to the local seniors. The idea was to get people out of the house and have a safe and warm place to get a little exercise. However Mother Nature had plans of her own.
Minus 20 Celsius and 70 Kilometer winds is not a good way to start the week, or to get seniors, or anyone else for that matter, out of the their house. The school was quiet this morning, so I cranked the music and cleaned the studio. She looks good, a great way to start the New Year. Clean and tidy. It won't last, but ….. so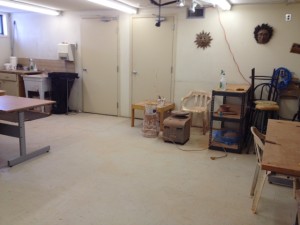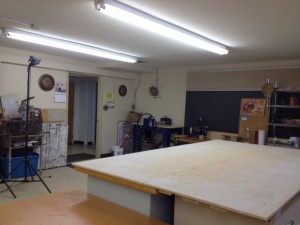 I should have had before pictures to go with the after shots, but trust me, it was an unorganized mess. I had the ladies clay classes with a Christmas party and then the kids class and party. There were orders to get out, a couple of little trade shows and the Galleria in Calgary. Last year, when I was done, I walked out and shut the door. It was on its way to Hell in a hand cart, but it got refused at the door for being too messy.
Last year I was playing with what I thought was to be a new blue glaze, but it's not what I had hoped for. I plan on working on some new  glazes later this month, but I have never really liked experimenting with glazes. We will see how it goes and how much I get done. My next blue has to be better than this syrupy sweet, baby powder blue.  The test looked interesting.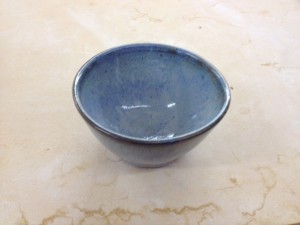 But as it got onto larger pieces, it reminded me of eating chocolate. The first little taste is good, but once it gets big, it is just too much. Candy Blue will not be seen again.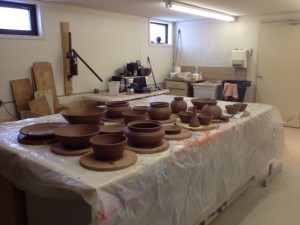 It felt good to back at work today and in such a tidy work space. I use a blend of two clays, and I have to pug to blend  all the clay I use. Before the Christmas break, I pugged a couple of bags or so, and today I threw what was mixed. When I ran out of clay, I had the option of pugging more, or walking laps in the school. Jim came down and we walked in the school. Fourteen times around, the inside, is one mile, a bit boring and a lot safer than walking outside on the ice.
Until next time.

AKA Mrs. Clay