Last post I talked about being back in the grove again. Being motivated to work and really enjoying working. It's true, I'm there. I have made more pots in the last month, than I have in the past 2 years. One of the motivators, I have to admit, is money. 'Tis  the season. I like making pots and I like selling them.  The product is  doing well at Galleria Inglewood. The sun is shining so I am making hay…..well pots……. I will deliver my Christmas batch the second week of December. However money is not the only motivator, it if it were, I would never have become a potter. So what is the motivator, what is motivation, where does it come from? I am only asking the questions. I don't have any answers,  to those questions and many others.
I am working on a batch of pots that I know will sell. The same old, same pots. Bowls, tea pots, casseroles, mugs etc.. I was checking out Facebook and a friend of mine, Dori Braun a potter and musician I have known for years, is working, I will assume, the same Christmas market and  making some very cool candy dishes.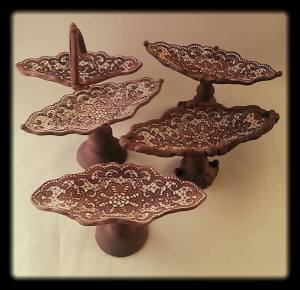 Now I have been in head down, flat out production mode. I have a good idea what will sell and have been working on that. The potter came back and the pots are  flying.  I plan to play in the clay in the New Year, but right now my motivation is making lots of pots, or so I thought.  When I saw her candy dishes, I wanted to make candy dishes too. I was motivated. Time is tight and play time is short., but I took a bit of time time to play, to listen to the motivation. Her pots are very different from mine, but the motivation was the same, play with clay and make candy dishes.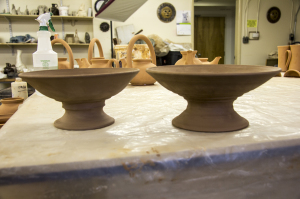 We need to pay attention to what motivates us, what makes us want to work, what gives us that drive to create. More important, we have to act on it.  I don't know what motivation is or why it shows up, but if I listen to the potter inside, I know what it feels like. We all need to pay attention to that. Work with it. That's where our best work comes from.  I made some candy dishes. It is not for me to say if they are good, bad or ugly. (odd and out of place Clint Eastwood reference) We can never judge our own work. If we didn't think it was good, we wouldn't have finished it. All we can and should do, is go with the feeling, the motivation to create. What could happen?
It is a candy dish week. We, The Clay Teacher, are making candy dishes with the kids classes on Friday afternoon.
Since it is a candy dish week, if anyone reading is making candy dishes, or has been motivated to make candy dishes, please send me pictures and I will include them in a future post.
What can I say about motivation…..SWEEEET…..
Until next time,

AKA Mrs. Clay