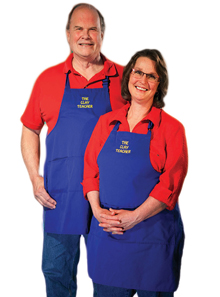 Cindy Clarke is a potter, artist and teacher. Cindy Clarke or "Mrs Clay" has potted all her life, first as a child with clay from her mother's garden in Dawson Creek British Columbia, then in elementary and high schools and finally as a profession. Cindy and her husband Jim Willett, "Mr. Clay", own and operate  Out of the Fire Studio. Re-located in August of 2001 from Edson to Edmonton ,Alberta, Canada, as of January 2014 the studio is located in the village of Coutts, Alberta in the historic Coutts Village School.
Cindy and Jim have semi-retired from doing workshops in the schools, but still work as The Clay Teacher for Artist in Residence.
Cindy is featured in a video for beginning potters called  "A Down to Earth Look at How We Make Pottery"
The Clay Teacher continues to offer full project instruction through full length video projects available on YouTube® or on DVD, available by phoning 1-855-218-9974 toll free. See Cindy throwing on the wheel on YouTube!  Also visit HowToMakePottery.com for more pottery making information and videos!