It was a good week in the old school and the studio. I got all my pots made and delivered. We took a truck load, literally, but we have a small truck, to Calgary.  Walking into Galleria Inglewood  was like walking into Christmas. It was beautiful. There is over 9,000 square feet of gallery filled with art, craft and Christmas. If you live anywhere near Calgary AB, it is certainly worth to trip! Our pots looked good and now there is a truck load more.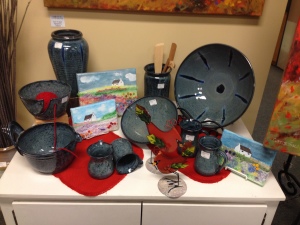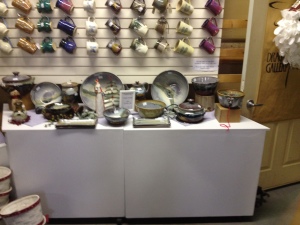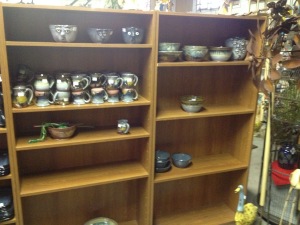 Tuesday, the town had their annual  cookie exchange. To participate, you make four dozen cookies and bring them to the library in the Historical Coutts School. Put the cookies together, and everyone brings home four dozen cookies, just not the ones you made. Jim made chocolate chip, peanut butter, oatmeal, they were really good. We got a great variety of wonderful and not so wonderful cookies. There were about 25 people that took part and the library was hoppin'.
Tuesday night was the last adult clay class, next week is our party. The studio was full of students. The gym was rented out to a family that was playing and exercising.The cookie people came to the studio to visit, the studio people were checking out the cookies, the family in the gym was back and forth.  The school was buzzing with pre-Christmas excitement. It felt wonderful to be a part of it. The old girl was alive!
Tonight is another supper, not pot luck this time. We were invited to join the neighbours at the Milk River Senior Society Christmas Dinner.  It should be fun. I am getting dressed up, new jeans, and taking my hair out of the pony tail that it has been in since we moved here. Tonight, I am letting my hair down.
We stopped in Lethbridge on the way back from Calgary and did the normal in town, run around shopping. We also got all new Christmas decorations. When we moved, I gave them all away. Back then, I was feeling like the Grinch and Scrooge all rolled into one. My daughter got all the decorations, wrapping paper, everything, if she wanted it all or not . I was done with Christmas.  That was then and this is now. I am glad I did the purge. Out with the old and in with the new, is very much like our life here. As time goes on and we get our new rhythm in the new life, I can only wonder how different next Christmas will be. If last year to this year is any indication, I should hang on for the ride.
Until next time.

AKA Mrs. Clay