I have dropped the video and blogging ball. It has almost been a year. Life here in Coutts is busy and I am a little scattered and unorganized, but having fun. Last blog I posted said I was going to video blog, well……. But I am here again.
We have settled and enjoying this small town of only 277 people. The studio is doing well. I have ended the Tuesday night classes for the summer and I have as many clients as I want, four. I have taken part times jobs at the local Post Office, here in Coutts and Milk River, the town 18 kilometers north. The office here is small, meaning, that there is only one person in the office at a time. It is a great way to learn all  the jobs at the PO and get to know your neighbours. I was sorting mail yesterday, when I heard a voice from the other side of the boxes. "My names is Bud, what is my box number?" he hollered out. I hollered back, "Hi Bud,  you are 172 and you don't have any mail today."  Only in a small town.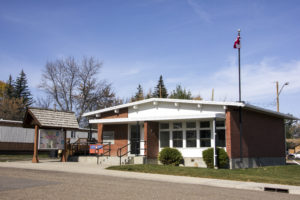 We are working on our Second Annual Coutts Days Art, Craft and Trade Show. Everyone says , Bigger and Better, well we are. We have vendors coming from St. Albert, Calgary Lethbridge and all in between. We will have about 40 vendors. OOHHH I hope the people attend and the vendors do well.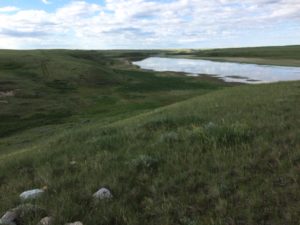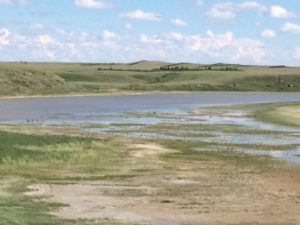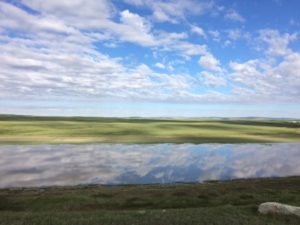 Today, I will walk the dog Harvey for a walk in his coulee. We live near this beautiful valley with water, birds, wild life and flowers. We are the only ones we know of that take advantage of the wonder 2 mile walk along the valley. We named the coulee Harvey Coulee because he simply loves it there. We may walk only a couple of miles, but he runs all over and does a whole lot more than that.  We try to walk him there every morning. What a great way to start your day. I have a bunch of pots to glaze and then load. I will work the lunch hour at the Post Office and tonight we have to mow the lawn. We have double lot and that is a lot …. well two lots…. of grass.
It will be a day.
Until next time,