Last week we had planned a clay run to Medicine Hat, but the weather was so miserable we stayed home. It has been around minus 20 with a lot of wind making it a good time to stay home. I have pots I should be making, but  I am almost out of clay, so I took some  time to play.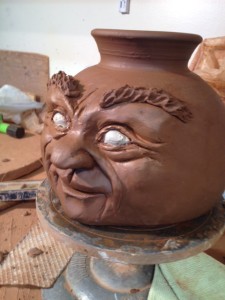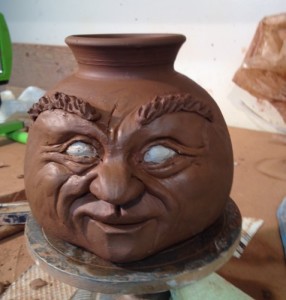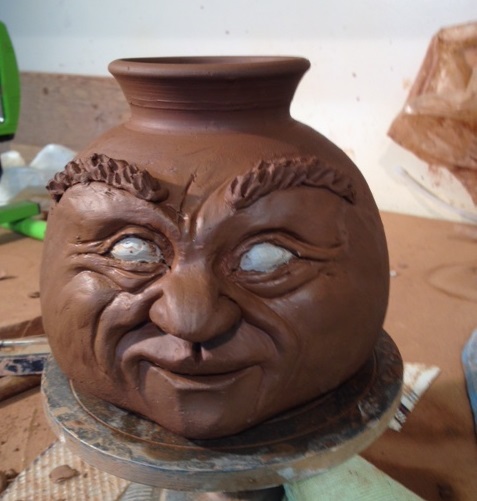 His eyes still need a little work.
I will rip his eyebrows off in the morning, I don't like them. I will give him his pupils and add a bit more "meat" to the area. It is good to see a picture of what you are doing and get a different perspective. I don't like his eyes, but I think the changes will help. I enjoyed playing with his face and it doesn't matter, at this point, if I like his eyes or not. I like playing with them. It was a nice day of working with face while  talking to my daughter on the phone.
Friday was the first day back for the kids class. We had a good turnout and they made some Arctic Scenes. They did a wonderful job, even the little ones. I thought we might as well celebrate the winter as we certainly have been having our share.
One little boy thought that if a few extras on the piece were nice, more had to be better.  We are still working on, less is more.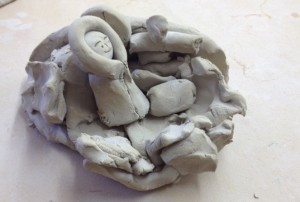 I got the few pots trimmed that I made last week,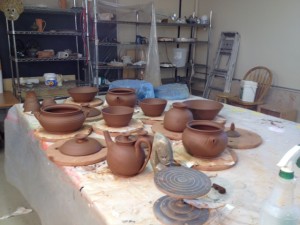 But then I had to clean all over again.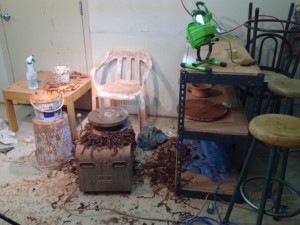 Tuesday we are planning the clay run. We have to drive to Medicine Hat, about 2 hours away. We will make it pay trip with a Costco shop, a stop at Super Store and a few more stops. After a couple of stores, I am more than ready to head back home. The longer we live in this small town, the more I prefer it to the city, even a small city like Medicine Hat or Lethbridge.
Until next time,

AKA Mrs. Clay